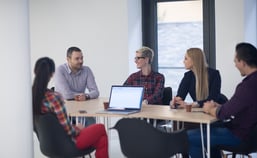 The Equal Employment Opportunity Commission (EEOC) requires certain companies to submit a report categorizing their employees by race or ethnicity, gender, and job category. This demographic survey, called the EEO-1, is due by September 30, 2016.
Private employers that meet one or more of the following criteria are required to file the report:
Employs 100 or more employees (excluding primary and secondary school systems, institutions of higher education, Indian tribes, and certain tax-exempt private membership clubs)
Employs fewer than 100 employees if the company is owned by or affiliated with another company and the entire enterprise employs a total of 100 or more employees
Is a federal contractor with 50 or more employees is not exempt under 41 CFR 60-1.5, and: a. Is a prime contractor or first-tier subcontractor with a contract, subcontract, or purchase order amounting to $50,000 or more; or b. Serves as a depository of government funds in any amount; or c. Is a financial institution that is an issuing and paying agent for U.S. Savings Bonds and Notes.