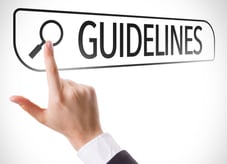 Let's take a look at a few of these key policies, keeping in mind the Golden Rule of wage and hour: non-exempt employees must be paid for all time they are "suffered or permitted" to work. This doesn't just mean time in the office, but all time, whether approved by the employer or not.

Timekeeping: If you don't have some kind of timekeeping policy in writing, now is definitely the time to create one. Employees should clock in no sooner than five minutes before their scheduled shift and clock out no later than five minutes after their scheduled shift. Additionally, employees are required to clock in and out for their designated lunch periods, which are unpaid time when employees are relieved of all duties. The length of an employee's lunch period should be approved by their manager. Waiver of the lunch period requires prior approval of the employee's manager.
Non-exempt employees are not permitted to work overtime or unscheduled time without prior authorization from their manager. This includes clocking in early, clocking out late, and working through the scheduled lunch period.
Off-the-Clock Work: Make sure employees know that they generally should not be working off-the-clock, but if they are (hopefully with permission) that time should be recorded.
Bring Your Own Device (Use of Personal Devices): We recommend a policy that addresses use of employees' personal devices such as phones, tablets, and laptops.
Meal Periods and Break Periods: Many states requires meal and/or break periods for non-exempt employees. Check your state requirements and make sure you're offering and enforcing these rest periods.
Overtime: Now would be the time to ensure that you're familiar with your state and local overtime laws. Although most employers will only be subject to the federal requirement to pay time and a half for hours worked over 40 in a week, Alaska, California, Colorado, Florida, and Nevada all have daily overtime, and Massachusetts and Rhode Island require some employers to pay a premium for work on Sundays. Whatever your state requires, make sure your managers are aware of the rules and that you're prepared to comply.