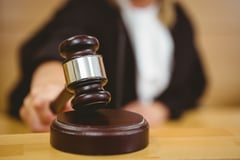 New Jersey has joined a growing number of states to pass "ban the box" legislation. Effective March 15, 2015, New Jersey employers with 15 or more employees may not conduct background checks prior to completing the initial interview with a prospective job candidate. Note that while employers with fewer than 15 employees are not covered under the Act, they still may be subject to other regulations affecting background checks, such as the Fair Credit Reporting Act.
In addition to prohibiting employers from inquiring about the criminal record of the applicant (whether indirectly through the application or verbally during the first interview), the employer may not:
•Advertise a position in a manner implying that past convictions would affect the organization's hiring decision;
•Disqualify a candidate from further consideration due to criminal records that did not result in a conviction; or
•Use convictions or imprisonments for disorderly conduct older than five years, or convictions or imprisonments for most crimes older than ten years as criteria in a hiring decision.
Should an interviewee disclose any information about their criminal background, the employer may only inquire about matters which the applicant has previously disclosed. Employers who disregard this law will be fined $1,000 for the first offense, $5,000 for the second violation and $10,000 for each subsequent offense.
The Act does not prohibit employers from inquiring about criminal history after the initial interview, though employers are still required to obtain authorization from the applicant or employee prior to conducting the background check pursuant to the FCRA. Additionally, while the Act does not prevent employers from declining to hire a candidate based on a criminal record, employers should be cautious of possible discrimination claims stemming from these decisions. There are some limited exceptions to the Act for independent contractors, any positions for which a criminal background check is legally required, or in circumstances where employment would be legally prohibited for certain convictions.