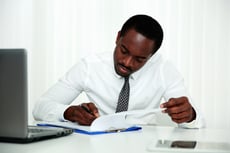 The I-9 form released November 14, 2016 must be used as of Sunday, January 22, 2017. Keep in mind:
The new I-9 is intended to be completed as a fillable PDF, but you are still required to print, sign and retain the form for your records. This is not the same as using an electronic version. (If you do use an electronic version, your system must comply with U.S. Citizenship and Immigration Services' criteria).
Do not revert current employees to the new form. Use the new I-9 for new hires and to reverify temporary work authorization.
The form must be retained as long as the employee works for you and the later of three years after their hire date or one year after their termination date.
To download the form from the USCIS website, right click on "Form I-9 (PDF, 535 KB)." Choose "Save link as." Note that opening the form in a web browser (as you would with most links) will result in an error page.


Questions? Contact us today.