Guest post by Alan Greenwell and Rachel Graves
The Paycheck Protection Program (PPP) was established in April as part of the Coronavirus Aid, Relief, and Economic Security (CARES) Act. In an effort to help employers continue to pay their employees during the COVID 19 pandemic, the PPP was designed to provide assistance to qualified small businesses (and some other business entities) with payroll and certain other expenses.
The Paycheck Protection Program (PPP) was established in April as part of the Coronavirus Aid, Relief, and Economic Security (CARES) Act. In an effort to help employers continue to pay their employees during the COVID 19 pandemic, the PPP was designed to provide assistance to qualified small businesses (and some other business entities) with payroll and certain other expenses.
The loans were promoted as potentially forgivable, and employers swiftly took advantage of them.
On Friday, June 5, the PPP Flexibility Act was signed into law, making some changes to the original program. It's possible that more changes could be implemented, and more guidance issued in the coming weeks.
Some experts anticipate that thanks to the most recent changes many borrowers will now be eligible for complete or near-complete forgiveness of their loan. But as always, reporting the necessary data and supporting documentation are critical. Here's what you need to know as you prepare to apply for PPP loan forgiveness.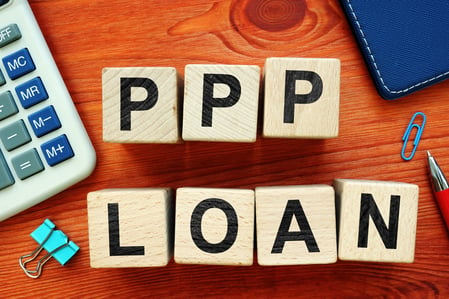 The alternative payroll period, and covered time period extension
Originally borrowers had eight weeks (56 days) from the day funds were received to use them. This has since been adjusted in two ways:
You may choose to postpone starting the eight-week period until the first day of your next pay cycle to better align the funds with your payroll expenses. For example, if you receive the money on a Wednesday but your next pay cycle begins the following Sunday, you can shift the first day of the loan period to that Sunday. This is known as an alternative payroll period.
The payroll period has been extended up to 24 weeks (or until December 31, 2020, whichever is sooner), if necessary. But employee salary/wage reimbursement is still capped at $100,000.00.
With these changes in place borrowers are more likely to reach the threshold for loan forgiveness, provided they maintain the same FTE count, limit salary/wage reductions, and achieve the correct balance of payroll and non-payroll approved expenses (more on these points below).
FTE calculations and salary/wage amounts
During the loan period employers must maintain the same average number of full time equivalent (FTE) employees per week as they did before the COVID-19 pandemic. There are two ways to calculate this:
add the actual number of hours worked by all employees in a week and divide that total by 40 (the maximum for each employee is capped at 40 hours per week).
use the Small Business Administration's simplified system: count anyone working 40 or more hours as 1.0 FTE and anyone working less than 40 hours as 0.5 FTE
Your average weekly FTE during the loan period must be equal to or greater than the FTE count during one of two "test" periods:
February 15 to June 30, 2019, or
January 1 to February 29, 2020
Employers with seasonal workers may use count during consecutive 12-weeks from May 1 to September 30, 2019.
You may select either test period, so be sure to check your FTE for both options before making a final decision on your loan forgiveness application. The amount of loan forgiveness you are granted may be reduced if your FTE count during the loan period falls below the test period FTE you specify.
Eligible expenses and "the cliff"
The original CARES Act legislation stipulated that borrowers had to use a minimum of 75 percent of their PPP funds for payroll expenses. The remaining 25 percent could go toward rent, mortgage interest, and utilities to still be considered forgivable.
When taken together with the original eight-week loan period and FTE requirements, some employers worried that they would not be able to spend the full 75 percent of their loan funds on payroll within eight weeks of receiving them.
The PPP Flexibility Act lowered the threshold, meaning employers may now devote less of the loan money to payroll and may take a longer amount of time to meet the requirement, if necessary. But, keep in mind the amount forgiven may be reduced if employees' wages or salaries were reduced by more than 25 percent during the loan period.
Under the current legislation, 60 percent of loan funds must go toward payroll expenses, such as:
gross salary or wages, commissions, and tips
benefits such as insurance premiums, retirement contributions, vacation, and parental, family, medical, or sick leave
state and local taxes that are calculated on compensation
allowances made for separation or dismissal
The remaining 40 percent of loan funds may be spent on rent/lease payments, mortgage insurance, and utilities (i.e. phone, internet, gas, water, electricity, and transportation). Note also that utility expenses may also be prorated as long as they are paid in the next billing cycle.
However, this change to the threshold also created a situation (also referred to as a "cliff" by some) in which if the 60 percent payroll threshold was not met, none of the loan would be eligible for forgiveness.
On June 8 Treasury Secretary Steven Mnuchin and Small Business Administration (SBA) Administrator Jovita Carranza issued a joint statement indicating that the "cliff" situation will be changed so that those who do not meet 60% will still receive some forgiveness. According to Forbes, an employer who spends less than 60 percent of its loan funds on payroll will still receive forgiveness "on all of such payroll costs, plus non-payroll expenses for interest, rent and utilities, to the extent that such non-payroll expenses do not exceed 66 2/3% of the amount spent on payroll expenses."
Loan payback period
If your PPP loan was approved after June 5, you now have up to five years to pay it back instead of the previous two-year payback period of earlier loans. The same 1 percent interest rate applies. Banks are also permitted to extend the payback period for loans approved before June 5, but are not required to by law.
SBA audits and documentation
Be aware that until recently the SBA would only audit loans over $2 million. Now, however, any amount is fair game for an audit. For that reason, it's important to gather and retain supporting documentation for your PPP loan and forgiveness application (keep it for six years to be safe), such as:
bank statements
payroll and unemployment insurance tax filings
FTE calculations and lists of employees (pre- and post-COVID-19)
lease/rental agreements or mortgage insurance statements
receipts
utility statements
records of job offers that were subsequently declined
records of resignations and firings for cause
employee requests for reduced hours
You may also want to be able to show that you did not have access to financial resources like credit or savings that could've been used instead of a loan. This may not be an issue for smaller companies; however, in the event of an audit be aware the question may arise.
The PPP Flexibility Act also "allows borrowers to adjust because they could not find qualified employees or were unable to restore business operations to Feb. 15, 2020, levels due to COVID-19 related operating restrictions," according to the Journal of Accountancy.
It's important to note that smaller businesses will likely face a heavier burden in gathering the required information, making calculations, and completing the loan forgiveness application. But, it is in your interest to spend the time to review how the loan periods and FTE counts line up to secure the greatest advantage for your situation. As always, Horizon Payroll Solutions is available to help and keep you up to date on the PPP and related payroll issues. Please reach out with your questions!
Disclaimer: This article is provided for informational purposes only and is not intended as tax, financial, or legal advice. Please consult your tax preparer or accountant with specific questions.