Supporting a strong team of employees can be just as challenging as finding a new candidate. Even top employees can steer off course and require guidance to do their best work. In some cases, encouraging the employee to move on may be the best course of action. But disciplining or terminating an employee is never an easy job for a manager. There are the personal delicacies to consider – hurt feelings, damaged work confidence and office morale – as well as the feared legal retaliation should the firing not follow the right process.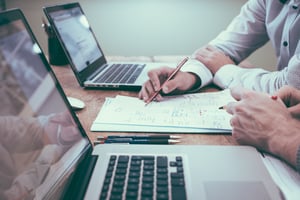 Disciplinary and termination policies should take a front seat in a company's management strategy. Everyone from the director of HR to the newest employee should understand the company's approach to correcting issues and grounds for termination. Here are five things to know to successfully handle employee issues.
1. Create a Policy Plan
When it comes to correcting an employee or letting them go, consistency is key. It is crucial to make everyone feel – and be able to prove – that you treated each employee equally. A firm step-by-step process protects against emotional or biased decisions that could lead to retaliation.
When designing a correction and termination plan:
Start from the top
Employees should always take their lead from the HR department or those in charge of hiring and designing company policy. A team should create a termination policy that best reflects company standards and legal requirements.
Consider state and local labor laws
The termination policy should take all state and federal discrimination, retaliation and labor laws into account when creating their system. These may include details on:
At-will employment
COBRA and other continuation of benefits
Last-paycheck laws
Communicate your policy
Any member of the staff with a direct report should focus on a company's conflict management and termination policy on an ongoing basis. These managers can then disseminate the information to their team in an employee handbook or orientation.
Construct a step-by-step process
Build a plan that eliminates any gray area when moving toward termination. The plan should instruct on the number of warnings, how they should be communicated and documented and with whom to discuss possible staffing changes before going forward.
2. Always Investigate
Your company's disciplinary plan should help managers make informed decisions with the support of their whole team. For example, rash decisions made in the heat of the moment could lead to unjust termination without hearing the full details of a situation. It is always best to handle the problem after hearing out each party involved and discussing the best approach with another manager in private.
Even if management is frustrated by the employee's actions, it's important to approach the situation by following your company's policy. There is always the chance that an error occurred within a larger context and the step-by-step process can bring this to light.
3. Aim for Professionalism
It's also important to consider who will be there and when the corrective action conversation takes place. For smaller issues, a manager should take the employee aside and let them know where they can improve and offer support for fixing this issue in the future. For larger infractions, bring an additional supervisor into a meeting to act as a witness and an additional ear for the direction on the conversation.
This process creates a culture of consistency and balance throughout the company. Employees are more likely to trust and turn to their managers if there is an issue when they know it will be handled fairly.
4. Document Your Process
Proper documentation is the best way to keep fear and anger from clouding the facts when resolving a conflict in the workplace. Each step of the process should be documented by the supervisor involved in the possible termination and filed with their direct report and HR department.
Management should complete clear paperwork using precise language when:
The first infraction occurs
Supervisors addressed the issue with the employee and created a plan for improvement
Meetings with higher management were held to consider next steps
Additional warnings were given
Termination is approved by management
Termination discussion is completed
Final payment schedule, severance package and COBRA details offered
Replacement hiring begins
With a policy plan in place, it will be easier to compare the written facts of the incident with the employee handbook. Sticking to comparable facts reminds the employee that there is a clear and balanced decision-making progress.
5. Prepare for the Termination Meeting
Though termination discussions are never easy, there are ways to ease the embarrassment and shock of being let go. Consider the following factors when a termination is on the horizon:
Timing
Always allow for minimal disruption in your company's workflow when letting an employee go. Privately alert additional supervisors of the upcoming termination so they can make proper arrangements. It is best to hold the conversation at the end of the workday so the employee can leave quietly without as many colleagues in the office. Though choosing a day at the end of the week is often easiest for the company, it could be beneficial to release the employee at the start of the week so they can immediately seek alternate employment.
Wording
Stick to clear, calm language that indicates how the company came to this decision. Even if the team felt anger or frustration leading up to the choice, it's important to leave these feelings out of the room. Point to items in your documentation that clarified how you and your team made the choice. Reiterate that the facts confirm that this is the best decision for both sides.
Kindness can go a long way in these difficult talks and being courteous is always the best route. But it's important to also state the facts without apology or an abundance of emotion to avoid confusion. Steer clear from wording that weakens the confidence of your decision. Ensure them that you will do everything you can to make the transition out of the office easier for them.
Communication
It's important to relay the news to the company to stop the spread of false rumors or fear of additional terminations. Calmly and succinctly explain that the employee has transitioned out of the company and who to contact should they have further questions. This both protects the former employee's privacy while providing transparency.
Making a Smooth Transition
Letting an employee go is never easy. Employees often experience the shock of the coming financial or lifestyle change that comes with finding a new job. But in the end, a bad fit for a particular company or position is not sustainable and termination will benefit both parties in the long run.
With a solid policy in place, managers can approach disciplinary action and termination with greater ease. The plan is there to avoid unnecessary conflict that could further interrupt the flow of the workplace while respecting the employee's point of view. Incorporate a termination and correction plan into your company's policies to maintain a culture of trust and accountability.