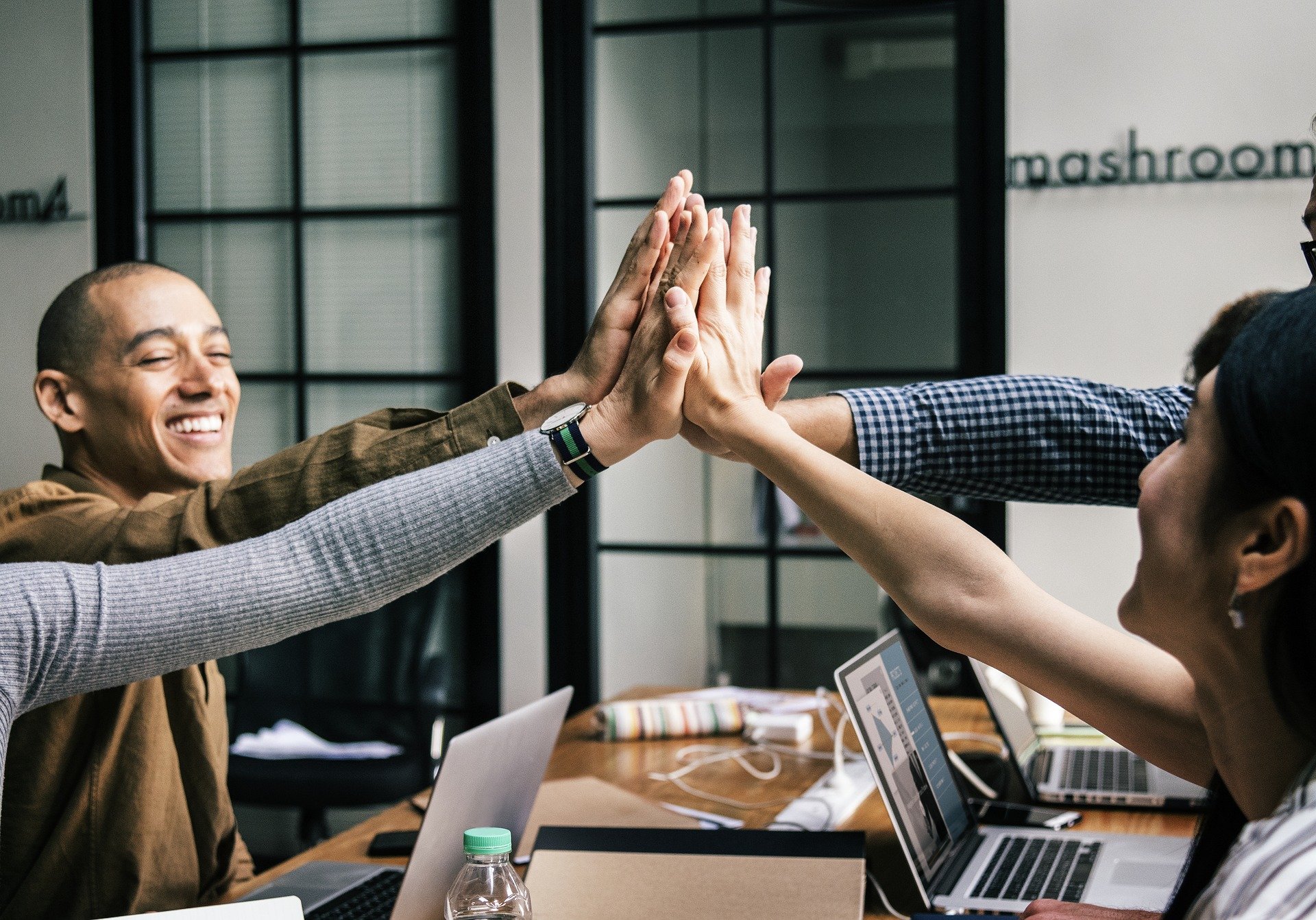 Great management is just as much about guiding your employees as it is about inspiring them to come together. Team building activities help coworkers find common ground, generate new ideas and bridge the gap between their unique learning and communication styles.
An office team must challenge themselves to understand each other to maintain a culture of trust and creativity. Forbes points out, "Spending time together, sharing an experience or working towards a common goal allows bonding to happen more organically and far more effectively."
How do you find the best team-building activities for your employees? Breaking free from your usual routine and out of your comfort zone is not always easy. Choose a team-building activity that feels natural for your office dynamic while pushing the boundaries of your everyday rhythm.
We'll take a look at a range of outings, in-office exercises and ways to restructure your management style to help your team come together.
1. Start a Tradition
Share an experience that also sparks creativity. Pick a local restaurant, coffee shop or brewery, and meet once a month to decompress and reconnect. Small Business Advisor, Marla Tabaka reported in Inc. that these off-site meetings can help teams rebuild collaboration skills. The balance between a casual outing and a structured meeting helps you break free from the board room blues.
The outing doesn't have to include a traditional happy hour routine or standard lunch plan. Pick a morning each week to get a cup of tea out of the office as a team. Choose to hold a meeting at this spot or completely disconnect from work topics altogether.
2. Team Challenge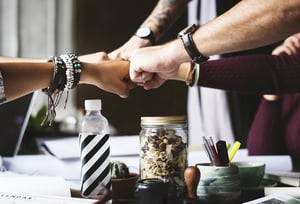 By presenting your team with a common goal or question, employees have a chance to break free from their typical leadership roles and foster creative impulses. These challenges may include:
Guessing Game Challenges: Pair up coworkers and ask them to sit back-to-back. One person explains an image or concept to their partner while the other draws. This can be done with charades-inspired games or your own version of $10,000 pyramid.
City Scavenger Hunt: Send your team members out into the world on foot to find unique food items, snap photos of signs or to complete silly tasks around town. The first team to photograph all the items on the list takes the prize for that month.
Escape the Room: The rise of escape challenges is ideal for fostering group collaboration. Whether your group succeeds or not, schedule a short outing after the game to casually discuss their experience.
3. After-Work Wind Down
Board game nights, office potlucks or an ongoing book club build community and helps teams learn more about one another. If you have a larger office, mix and match departments to encourage cross-department collaboration.
With the rise of intra-office chat programs, face-to-face interaction can get lost in the shuffle. These types of bonding activities help workers express their personalities in more natural ways than they may be able to throughout the day. They also generally raise morale and the sense of overall community throughout the office.
4. Create as a Group
Group artwork promotes both self-expression and skills to work toward a centralized goal. If you're launching a new project, just hired new employees or simply looking to refresh your office energy, collective artwork can bring a team together. Examples include:
Company Coat of Arms: What image or symbol comes to mind when your group thinks of your company or brand? Brainstorm these symbols as a group and collectively design a coat of arms to both draw and display over your meeting space as a reminder of what you represent.
Team Mural: Choose a color palette of paints and present each employee on your team with a blank canvas of the same size. Allow each person to create an abstract work of art with similar colors binding each image together. Line them up and connect the artwork to display a mural that stands for the whole.
Collective Brainstorm: Hang large pads of paper around your board room with your project-related questions. Each employee carries a different color marker and walks around the room, adding their own notes or commenting on another employee's notes on each pad. Lead the discussion based on the ideas, allowing everyone to have an equal voice.
5. Get Competitive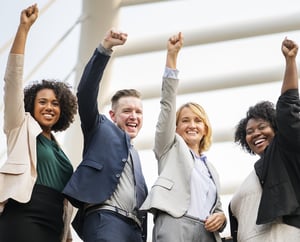 There are plenty of team building exercises that tap into a team's competitive personalities. Choose a task that allows your employees to show off their skills outside of work. Plan a bake-off challenge and allow the whole office to try the treats and pick their favorite.
Do you have more of an outgoing group? Schedule a night of competitive trivia or karaoke either nearby or in the office. Theme the trivia to learn more about your coworker's passions and strengths. Be sure to announce the winners in an office-wide email to sing their praises.
6. Unique Food Excursion
Break free from the usual lunch options and head out as a team to try a unique cuisine or new restaurant. Be sure to pick a spot where no one else has ever been and experience the new flavors for the first time together. This shared experience reminds the group that new experiences spark new ideas.
7. Community Service
Plenty of local and national organizations benefit from corporate community service outings. Vote on where your office would like to lend a hand and head out for an afternoon or full day of giving back. If it's too tricky to get out of the office, plan a day for a clothing or food drive for a local organization and send it over together.
8. Get Outdoors
Even a walk around the block can give you a brand-new perspective on your day and break up stagnant ways of thinking. Get the group out of your usual surrounding by heading to a local park or farm to spend a day finding inspiration from nature.
Incorporate your outings into a brainstorm session or meeting once a week or break free from work altogether by treating your team to a day outside. Pair up with a group that manages outdoor adventures and challenges to build teamworking skills and disrupt your usual routine.
9. Awards and Acknowledgments
In a study by the Society for Human Resources Management, 81 percent of polled companies used employee recognition to enhance their core values. When managers consistently praise good work, employees learn that their efforts and individual contributions do not go unnoticed.
In addition to the expected acknowledgements, such as work anniversaries, mark significant successes or milestones with personalized awards. They don't need to be huge, even a small write up in a weekly email can make all the difference.
10. Give Everyone a Voice
Need a quick exercise to spark creativity and energy? Check out these employee-focused games and challenges that give everyone an equal voice, from project assistant to project leader.
One-word story: This exercise is easy to play in a hurry when sitting around a table. As you move around the group, each person adds one word to a story at a time. Instruct the group to listen to one another but trust their initial impulse. Each participant must think on their feet by saying whatever comes to mind while building off of the story already in progress. Encourage the group to create a strong beginning, middle and end.
Two truths and a lie: This go-to icebreaker allows each employee to share a story about themselves while thinking outside the box. One at a time, each person says three sentences about themselves. Two are true and one is a lie. The group must then guess the fib based on the employee's storytelling skills.
Expert presentation: If presentations and client meetings are a big part of your day-to-day, sharpen your skills by letting your team present on what makes them most comfortable. Choose a day each month and welcome each person to present on a topic outside of work that they can teach to the group.
When employees connect with their fellow team members, new ideas can surface and grow. Choose a team-building exercise that celebrates who you are as a group and remember to welcome the new challenge of breaking free from your daily routine.