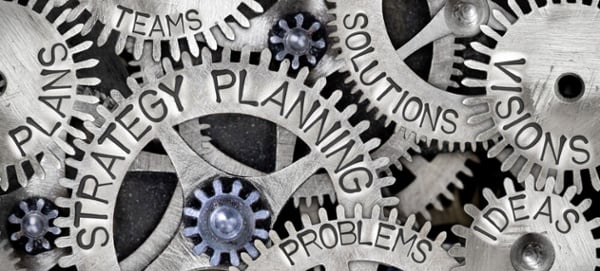 Odds are good that your work life changed significantly in the last year, or that it continues to evolve as the pandemic persists. As the Associated Press notes, "it's far from certain which of the myriad changes will prove permanent and which may fade as people who've been holed up at home for months return to their pre-pandemic routines."
Many companies had to make quick changes to keep workers and customers safe. With little time to plan for remote or socially distanced operations, many found themselves "winging it" and had to figure out the new normal on the fly.
But what works in a pinch might not be sustainable for the long-term future of your business.
Yes, we're still knee-deep in the pandemic. But now is the time to plan for the post-pandemic future. What changes will you retain or abandon? How will your business model or offerings pivot? What will your workforce look like? Anticipating your options now could be the difference between employees who merely tolerate changes and those who truly thrive with them. Here's what you should be thinking right now.
An Intentional Approach To Remote and Hybrid-Friendly Work
Some employers have seen advantages to remote/hybrid work that are worth continuing. These include saving money on real estate costs like rent or mortgage, maintenance, cleaning, and utilities. Likewise, reimbursement expenses for travel, meals, and conference fees have been reduced or eliminated. And, technology for distance collaboration like project management platforms, instant messaging (IM), videoconferences and screen sharing have made it possible to stay productive from a distance.
If you foresee replacing all or most of your traditional time in the office with remote work, make sure everyone is set up for success. Consider addressing recurring issues and setting clear policies and expectations to keep unhelpful habits from settling in, for example:
Setting core business hours when all/most are online
Policies for video calls (using the camera, mute when not speaking, no cross-talking)
Establish a lunch period and how to notify your team about breaks
Expectations for using collaboration/project management platforms
How to report illness or request time off
If a hybrid home-and-office approach seems best, consider setting policies and guidelines for who, when, and how frequently to require work on-site. Be intentional about when and why face-to-face meetings outside the regular schedule are called. This facilitates advance planning for those with longer commutes, childcare/eldercare needs, and other factors that impact ability to be in the office regularly.
You may also need to find ways to replace some of the workplace cultural and social context that is missing in the virtual environment. For example, what happens to all the serendipitous conversations that turn into productive brainstorming, sage advice, or unplanned collaborations? Some employees may need assurance that it is ok to text or IM teammates with questions or talk through ideas – just be sure everyone is trained on how to use messaging and other apps to communicate effectively.
Thinking Outside The Box For Face-to-Face Work
In-person work doesn't transition as readily to the virtual environment, if at all. As noted in Science Alert, "Ongoing research from the University of Chicago estimates only 34 percent of today's jobs can actually be done at home in their entirety."
Some restaurants, retail, grocery, home health care, and hospitality businesses have pivoted and remained open; however, that hasn't eliminated extensive job losses. "As COVID-19's spread across the U.S. prompted stay-at-home orders and business closures, the share of non-remote workers who lost their employment by early April was three times higher (24%) than the share of remote workers who lost their jobs (8%)," according to research.
For many people, the pandemic is forcing the kind of innovation and entrepreneurship that will eventually replace some lost jobs as well as create new types of work. As shown by history, new and different jobs will surface and workers will adapt and develop new skills, but that hypothetical future may not do much to reassure them now.
In recent months, companies have scrambled to reinvent their core services and products. Some are branching out, such as restaurants offering meal kits or retail curbside pickup, to the point that what used to supplement regular services has supplanted them. If you anticipate a permanent change to the nature of your business operations, start thinking now about the kind of tasks, roles, and skills workers will need to make it sustainable, from increased computer skills to project management and more.
Supporting Your Employees In Every Setting
Some of the work-life balance issues that workers always deal with have been magnified due to the pandemic: boundaries between work and non-work time, burnout and that "always on" feeling, loneliness/isolation, schedule conflicts, child/elder care needs, etc.
McKinsey & Company reports that some of these are affecting women, mothers of young children, and women of color disproportionately, to the point that many have left or considered leaving the workforce or changing career paths.
Some ways to show remote and face-to-face employees you support them now and in the post-COVID future include:
Flexible scheduling or extra PTO to allow for childcare/eldercare/remote school needs
A realistic pace of work at home or with added on-site cleaning and health protocols
Clear communication of policies and expectations for productivity
Encouraging setting boundaries between work and non-work time
Reconsidering how you define and evaluate a job well done in this changed environment
Keeping lines of communication open: staying connected when working remotely, and remembering that while many employees enjoy working remotely, some prefer in person work and feel isolated working from home
Acknowledging that some may have to take on another job to help make ends meet
No matter how your workforce has changed, no matter how it evolves in the future, there are places you can turn to. Horizon can help you plan and manage payroll, schedules, and more. Contact us today to see how!