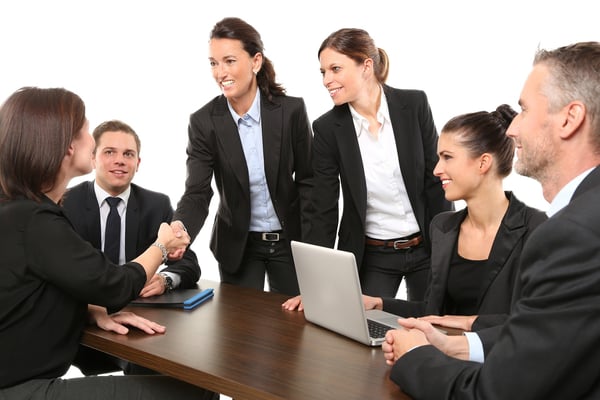 Congratulations! Your business has grown to 15 employees! Since your very first hires you've complied with labor laws like the Immigration Reform and Control Act, the Equal Pay Act and, if you provide benefits, HIPPA. But did you know that 15 employees is a threshold for additional labor law requirements? Here's what you need to know.
Count Employees Correctly
There's more than one way to count an employee. In the "compensation method," salaried employees are counted for each working day, but hourly and part-time employees are only counted on days they are at work or on paid leave. But, in a 1997 decision, the US Supreme Court held that employers must use the "payroll method" to count employees. Findlaw explains, "an employer 'has' an employee if he maintains an employment relationship with that individual … [and] counts all employees who are on the payroll for each day of a given week regardless of whether they were actually present at work each day." This means you might reach 15 employees sooner than planned.
Blue Avocado adds, "an employee is counted if an employer has an employment relationship with that individual for each working day in 20 or more weeks in the current or preceding calendar year. The weeks need not be consecutive."
Thresholds in your state or city may vary - review local laws too.
Which laws apply once we have 15 employees?
Title VII of the Civil Rights Act of 1964
Pregnancy Discrimination Act (PDA)
Americans with Disabilities Act (ADA)
Title II of the Genetic Information Nondiscrimination Act (GINA)
Title VII of the Civil Rights Act of 1964
Title VII protects employees and applicants from discrimination based on:
Age
Disability
National origin
Pregnancy
Race
Religion
Sex or gender
It also created the Equal Employment Opportunity Commission (EEOC) to enforce and make decisions about cases of discrimination. The law also includes provisions for pay equity and to protect workers from employer retaliation if they make discrimination claims.
This law doesn't address harassment directly, but "the legal theory of harassment evolved out of legal interpretations of the discrimination prohibitions in Title VII," says HR Hero. Learn about fighting workplace harassment and building a culture of respect with our tips.
Pregnancy Discrimination Act
The Pregnancy Discrimination Act, a 1978 amendment to Title VII, covers employee and applicant rights surrounding pregnancy, childbirth and related medical conditions.
Employers may not refuse to hire a woman who can perform the job merely because she is pregnant or has a related medical condition.
Employers may not require an employee to take leave because she is pregnant or has a related medical condition if she is able to perform her job
"If an employee is temporarily unable to perform her job because of her pregnancy, the employer must treat her the same as other temporarily disabled employees by, for example, providing modified tasks, alternating assignments or offering disability leave or leave without pay," says HR Hero. The job must also be held open for the same amount of time as for employees on sick or disability leave.
Employer-provided health insurance must cover expenses for pregnancy-related conditions on the same basis as for other medical conditions.
Americans with Disabilities Act (ADA)
"Title I of the Americans with Disabilities Act of 1990 prohibits private [and other] employers … from discriminating against qualified individuals with disabilities in job application procedures, hiring, firing, advancement, compensation, job training, and other terms, conditions and privileges of employment," according to the EEOC.
ADA compliance may require "reasonable accommodations" to give disabled employees equal workplace opportunities. The EEOC advises, "accommodations vary depending upon the needs of the individual applicant or employee. Not all people with disabilities (or even all people with the same disability) will require the same accommodation." Examples include (but are not limited to):
Making existing employee facilities readily accessible to and usable by persons with disabilities
Restructuring jobs
Modifying work schedules
Reassigning a disabled employee to a vacant position
Acquiring or modifying equipment or devices
Adjusting or modifying examinations, training materials or policies
Providing qualified readers or interpreters
Title II of the Genetic Information Nondiscrimination Act (GINA)
Enacted in 2008, Title II of GINA prohibits employers from making employment decisions based on genetic information. "GINA only addresses impairments that might affect an individual in the future, i.e. a genetic predisposition, as opposed to a current, impairing condition," says Attorney Jennifer Lankford.
If you require medical exams for employees, you may not ask for family medical history as part of the exam. Advise physicians not to collect this data either.
Your company wellness program cannot collect family medical history without first obtaining voluntary, written permission from the employee. Wellness program documentation should also include a written safe harbor clause, such as that found on the EEOC's Q&A page about Title II of Gina.
You may not retaliate against an employee for filing a claim that their GINA protections were violated.
What's Next?
Don't forget to hang posters, update your handbook and train management to ensure everyone knows their rights and how to stay in compliance. Details like these take time and may raise even more questions. Horizon Payroll Solutions can help you with compliance at 15+ employees and any of your other HR concerns.